Connecting while bettering each skill.
Our strength is our
start-to-finish production
(making wooden molds, casting,
machining, repairing,
and inspection).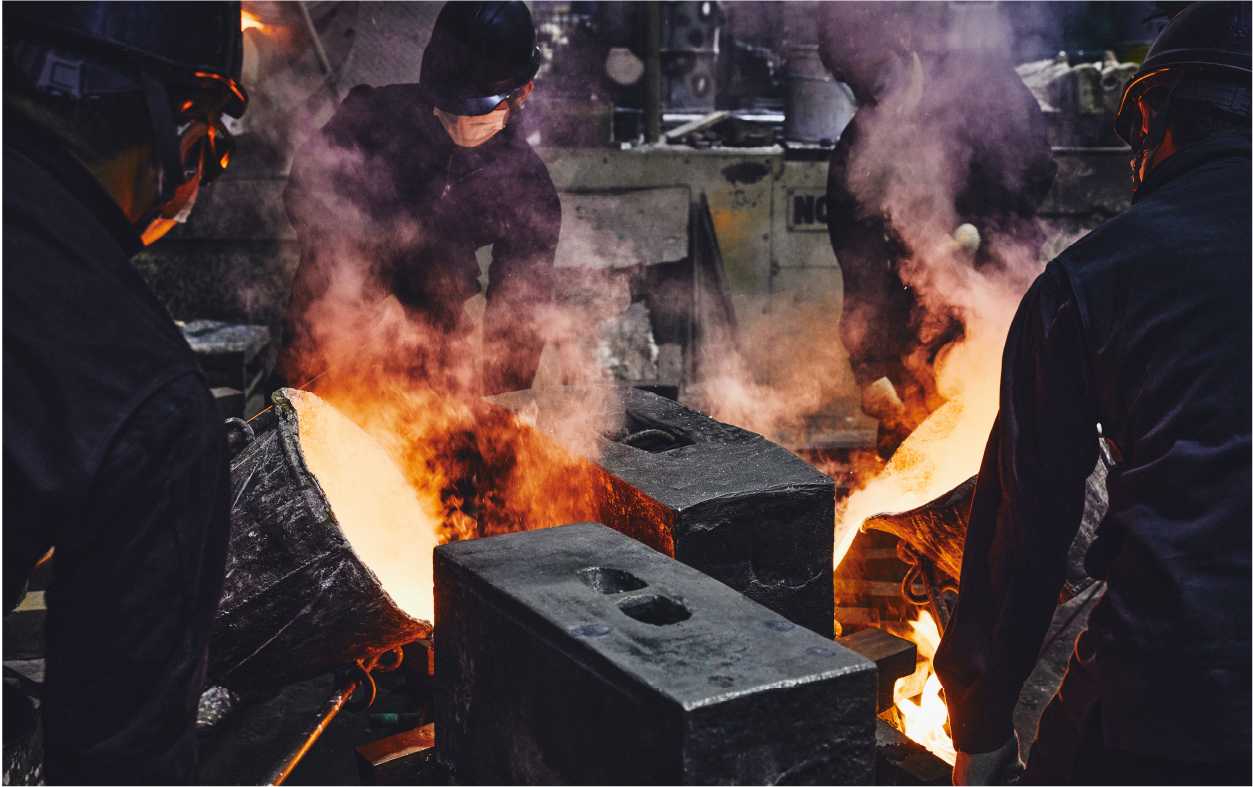 Designing and
manufacturing wooden
molds
Making products with
human skills and technology
Casting is made by pouring heated metal into a sand mold. To make sand molds, wooden molds are necessary.
We make the desired shape with wood and resin wood. Utilizing our latest CAD/CAM we can create design data and a program for NC machining that makes high quality wooden molds.
The expertise of our skilled employees, supported through digitalization, allows us to calculate shrinkage of the metal when casting.
We are making it possible to create wooden molds for 3D impeller vanes in combination with delicate hand finish techniques when machining is needed on a free-form surface.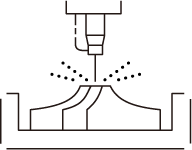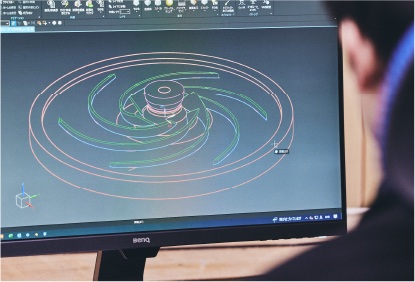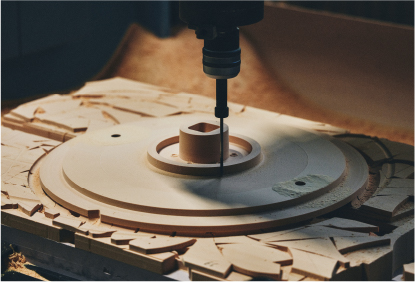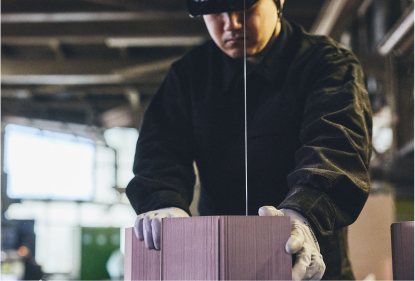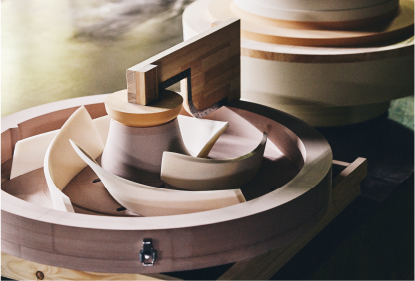 We are also working on making 3D additive
manufacturing with 3D scanners
and 3D printers.
Molding upper molds,
lower molds and cores
Molding delicate cores
with
patented technology
We make upper and lower molds with artificial sand using our fine wooden molds. To make some space for water channels, we put "the core" in between the upper and lower molds. For creating fine cores, we have our own particular way (patented in 1987 "3D impeller core");
・ Not only strong but also easily disintegrates. ・ Kneaded resin and sand is first put into a wooden mold together and then an adjustment for degas is made. ・ Surfaces are smoothed by hand. ・ Vane parts are removed from wooden molds and baked for a few hours at a high temperature.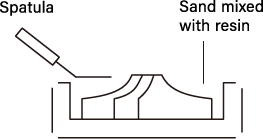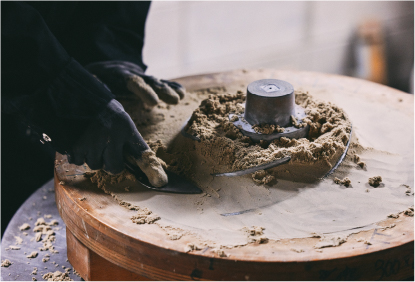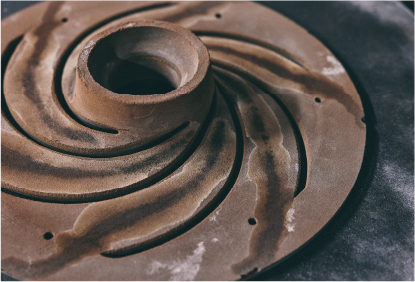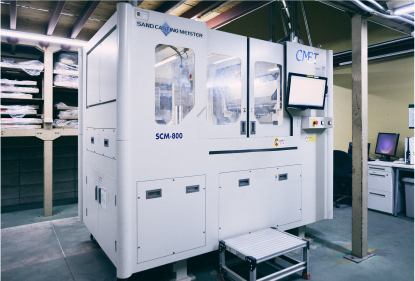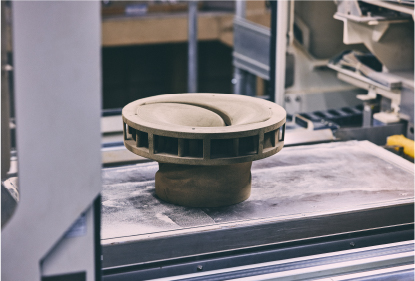 We are also working on making 3D additive
manufacturing with 3D scanners
and 3D printers.
Casting
Foundation for foundry
Casting is the process of pouring melted metals into casting mold consisting of lower mold, core, and upper mold. We melt metal materials in a high-frequency electric furnace and pour it into a casting mold quickly and precisely. There are 4 high-frequency electric furnaces we own. 3 are for stainless steel that can hold 1t, 500kg, and 100kg and 1 is for copper alloy that can hold 700kg. They allow us to cast 70t per month.
After they are chilled, sand molds will be shaken out and shot blasting will be performed for a finished piece.
We have acquired a "Foundry Expert" certification from Japan Foundry Society, Inc. and are working on improving our foundry skills at all times.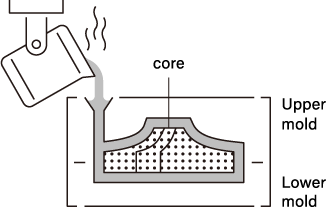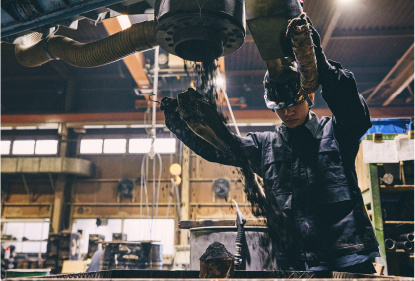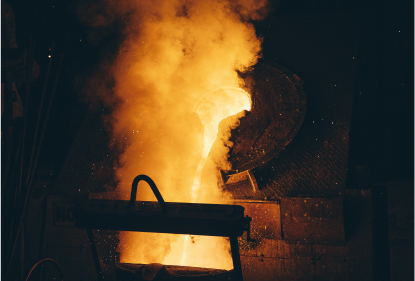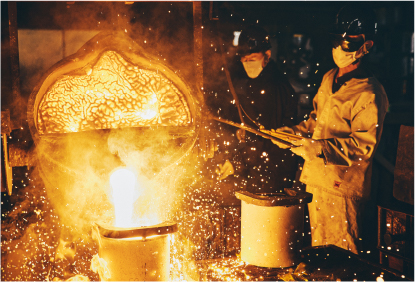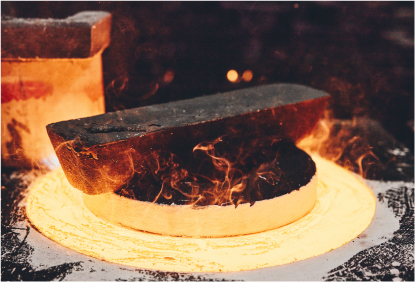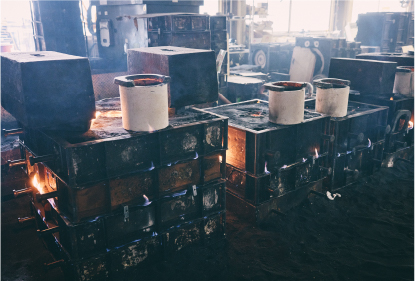 Machine processing
From the beginning to the
finished product
After thermal cutting the unnecessary parts such as the influx route for heated metal and riser, we move on to machine processing to finish the products.
We have processing facilities fully equipped with 7 general-purpose lathes, 10 NC lathes, and machines specialized for milling, a wire-electrical discharge, and turning. These enable us to do everything from rough processing to finishing.
We can provide high quality processing within 5mm/1000 of what our clients' desire.
Our latest facilities enable us to do keyway machining and process impeller diameter down to 1600mm which reduces the cost and time required for moving products between clients and other factories.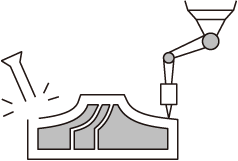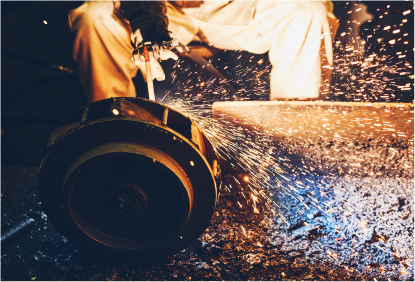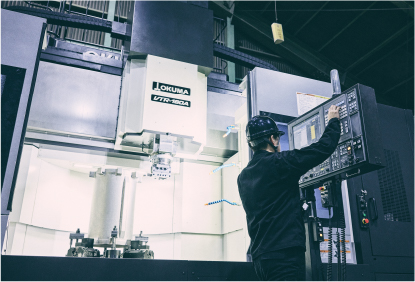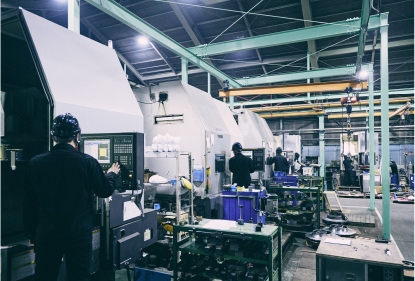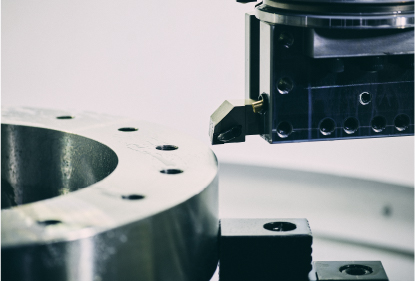 Weld repair
The expertise to deal
with
minuscule porosities
It is unavoidable for a foundry piece to have "porosities" caused by shrinking which needs a weld repair. And we have a team just for that. First, our dye penetrant testing (PT) certified examiners find every imperfection. Then our highly skilled welding engineers fill them up using TIG, arc, or laser welding. We also get reports from maintenance and repair staff and give feedback to the upstream process in an effort to prevent porosities from forming. We can maintain this high quality standard due to our start-to-finish production.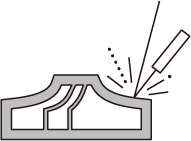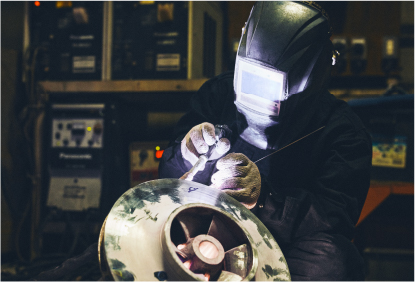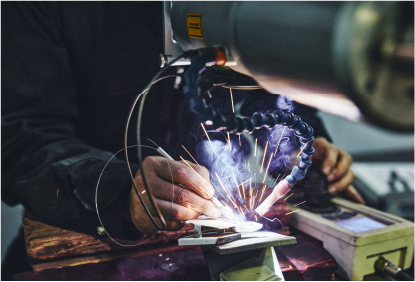 Inspection
The Last Piece to Ensuring Quality
Inspections are done based on industry as well as company standards and requirements.
Our products will be carefully inspected with slide clippers, micrometers, our latest handheld probe coordinate measuring machine or non-contact 3D scanners to achieve tolerances of 5mm/1000.
We believe our strict adherence to the requirements set by Japan's major pump makers through the years is one of our strengths and fosters our sense of high professionalism. Our engineers are certified with non-destructive inspection certificates. They confidently carry the responsibility of being the final step in the prevention of defective products.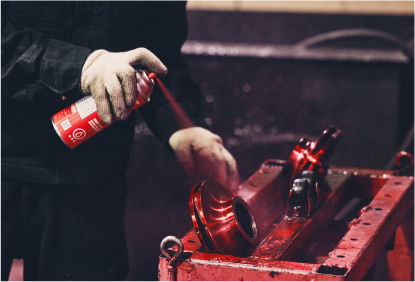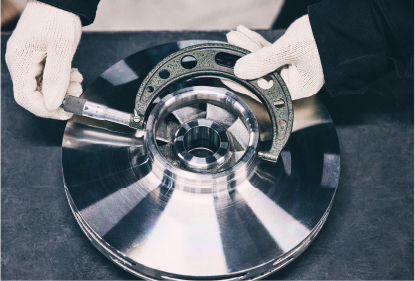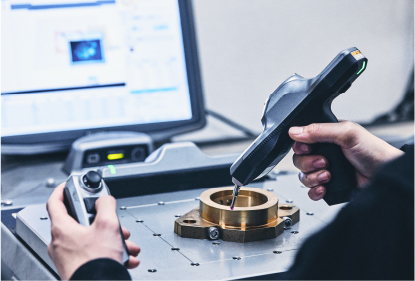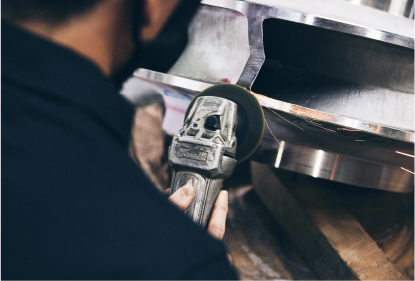 We continue to enhance our skills
by installing the latest
high-end technology
in our facilities
to meet the various needs of
our clients.
High Frequency Furnace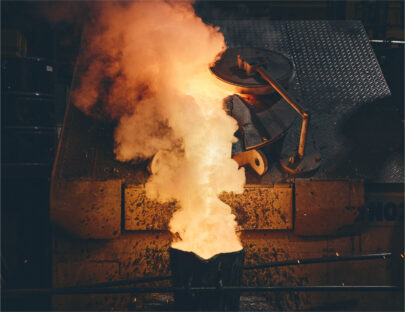 Sand Recycling Machine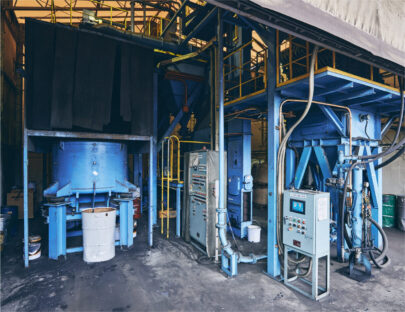 SINTOKOGIO
Monorail Blast 2.8t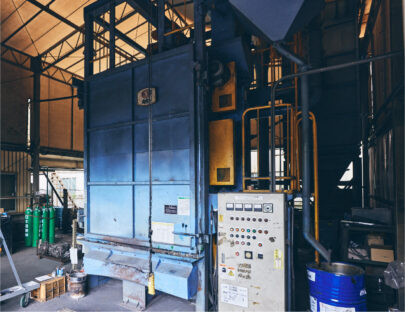 SINTOKOGIO
Sandblasters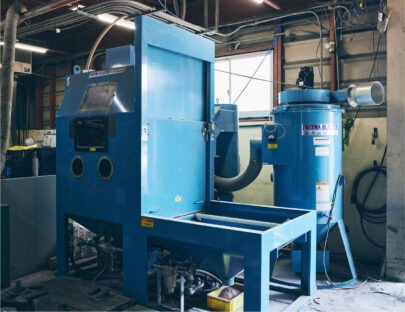 Fuji
General Lathe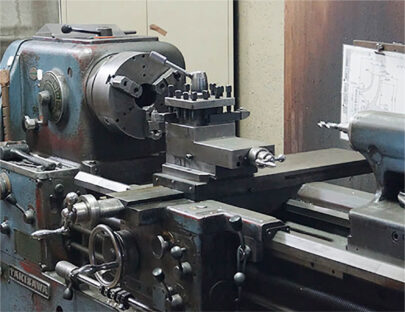 TAKIZAWA and others
LB4000EXII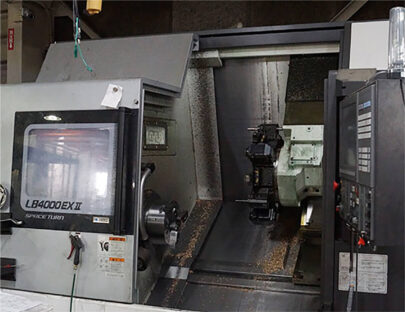 OKUMA
Vertical CNC Lathe V100R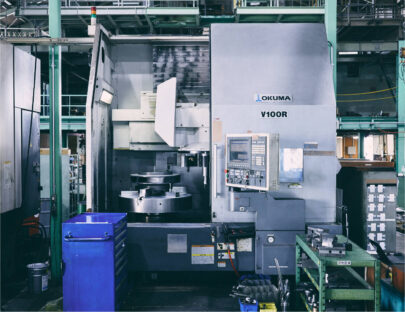 OKUMA
Vertical Machining Center MILLAC V761VII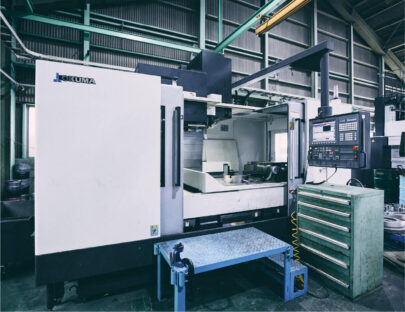 OKUMA
Turning VTR-160A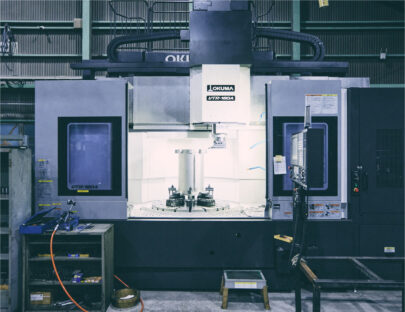 OKUMA
Wire electric discharge machine VL600QH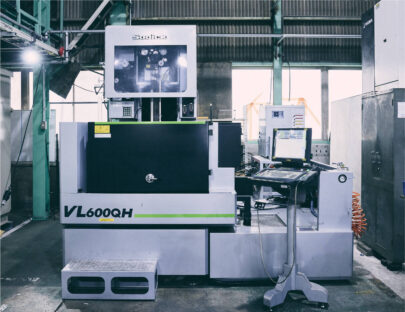 Sodick
V760EX (machining equipment)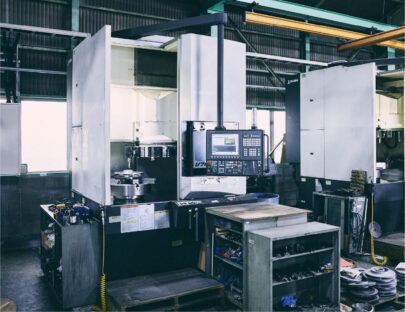 OKUMA
Laser-welding machines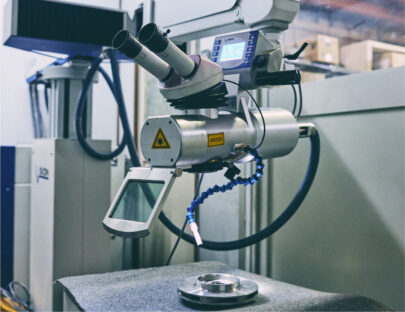 VISION
Universal Testing Machine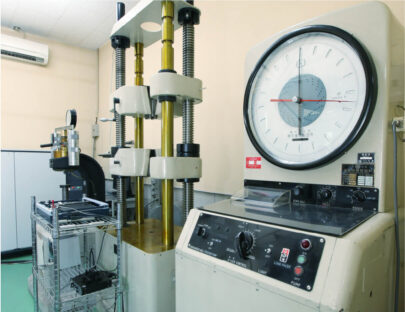 TOKYO KOKI
Brinell Hardness Scale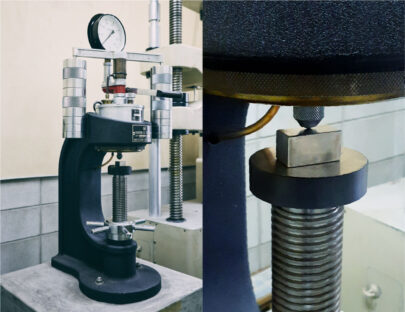 MATSUZAWA
Impact Type Hardness Testing Unit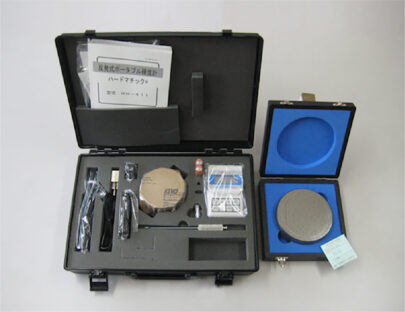 MITSUTOYO
Positive Material Identification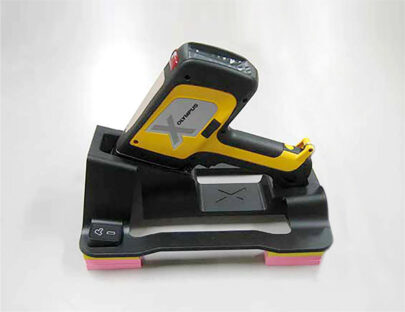 OLYMPUS
Digital Microscope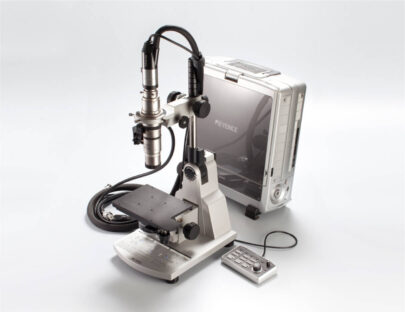 KEYENCE
Spectroscopy Analyzer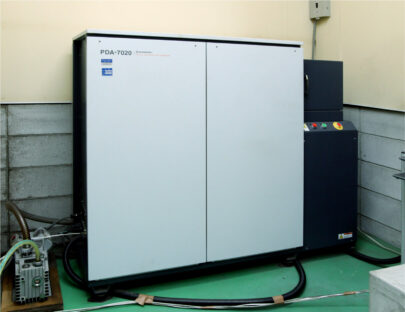 SHIMAZU
Ultrasonic Thicknessmeter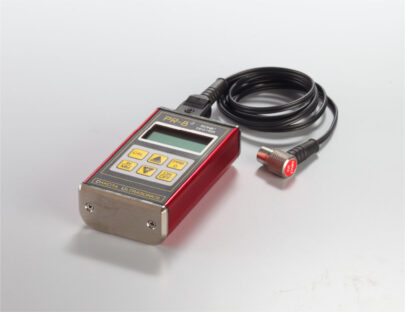 DAKOTA
Ferrite Scope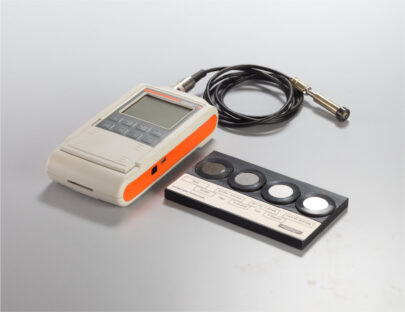 FISHER
Coordinate-measuring machines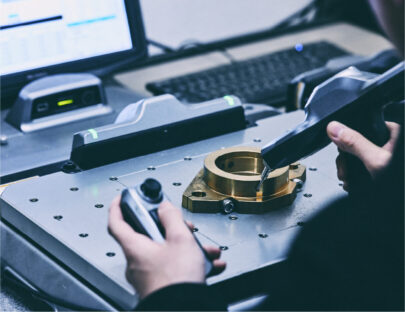 KEYENCE
3D printers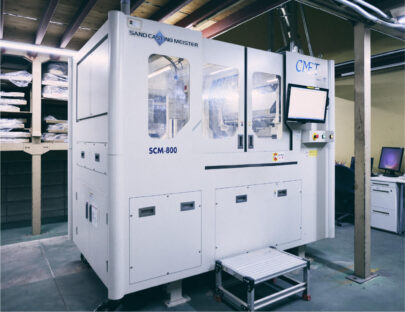 CMET
3D scanners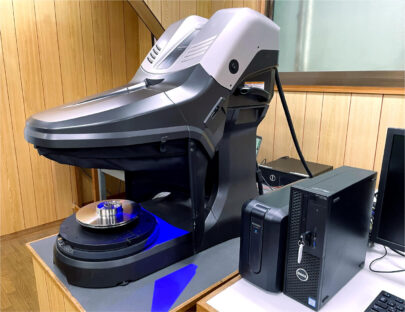 KEYENCE
NX CAD/CAM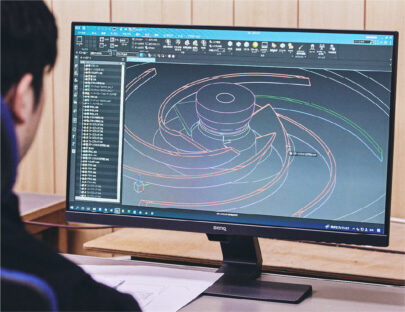 SIMENS